Mr. Williamson holds our students spellbound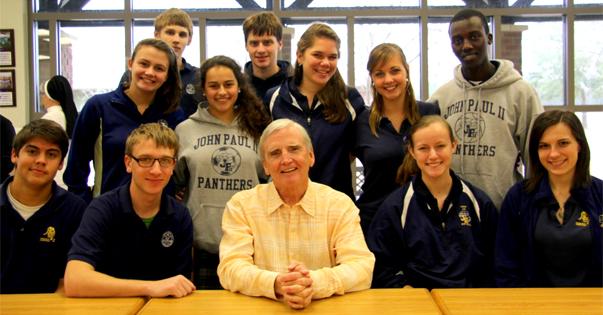 Mr. Bob Williamson was the third speaker for our Distin-guished speaker series during this school year. His humble and honest presentation made him a true favorite of the students. He recounted his life as he so aptly puts it in "Miracle on Luckie St." his autobiography. Noting his rise from the streets of many cities to the beautiful and serene pastures of Honey Lake Plantation here in northern Florida he conveyed the values he embraces for his life— peace, joy and love in his life. Having authored 19 books and sold 11 companies in the computer software area, he embodies a true change of life based on "finding Jesus" and following the inspira-tions that he receives to govern his choices in life.
We are grateful for his life and his inspiration. He is a great example for our students and for us all.