Businessman credits Christ for success in life, business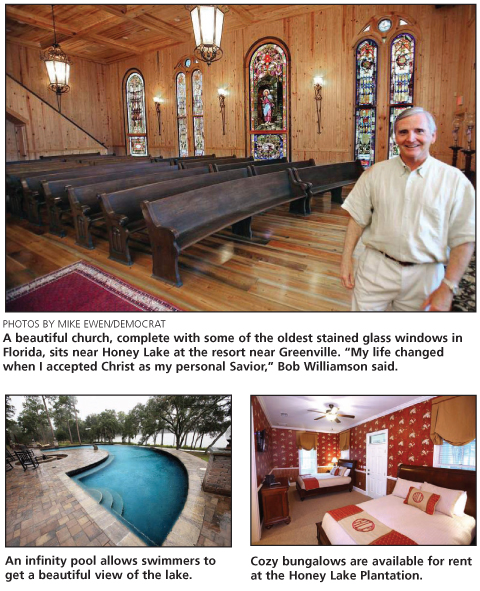 By Dave Hodges —
Democrat Business Editor
Oct. 21, 2011
Bob Williamson knows something about transformation.
From homeless alcoholic and drug addict to devoted husband and father. From sociopath and convicted criminal to devout Christian and successful businessman.
In Greenville, the latest evidence of Williamson's transformation is the brand-new Honey Lake Plantation Resort & Spa, which Williamson and his family have built in the center of a 4,700 Madison County tract north of U.S. 90. Though the place doesn't open officially until Nov. 11, it's already hosted a number of organizations in its meeting facilities and weddings are popular at the lakeside chapel.
Williamson, who will be 65 next month, didn't begin life with anything close to the outlook and attitude he has now.
"When I started out, I had a different childhood. It was very dark," said Williamson, who was born in Shreveport, La. As a teenager, he was an alcoholic and moved on to methamphetamine and heroin use.
Williamson said he was prone to violent outrages. His time in the military ended when he was officially diagnosed as a sociopath and deemed incurable.
In the years that followed, Williamson was a loner, homeless and carried a .357 Magnum because he committed robberies to survive. He was eventually convicted and served time in a New Orleans prison.
After his release, life wasn't much better for Williamson, who at 24 got drunk at an Atlanta bar and nearly died in a car crash that left him hospitalized for months. "I was in recovery for quite some time," he recalled. To pass the time, he got a copy of the Bible and read it in order to disprove what it said. "I didn't believe in God. I was full of hate and very bitter."
He learned that "I can do all things through Christ, who strengthens me," he said, echoing the verse from Philippians 4:13. "That was really a tipping point in my life."
Williamson accepted Christ and upon his discharge from the hospital, stopped the drinking and drug abuse. He achieved that transformation without a rehab program, but with a lot of determination.
That year, he married Teresa and they will celebrate 41 years together in December, he said. Their two sons have worked in businesses with him.
After going to work for a Glidden paint factory for $350 a month, he borrowed $1,000 on a credit card and launched his first company, which produced paints specially formulated for air-brush artists. Eventually he was earning $30,000 a week from that business and looking for other opportunities.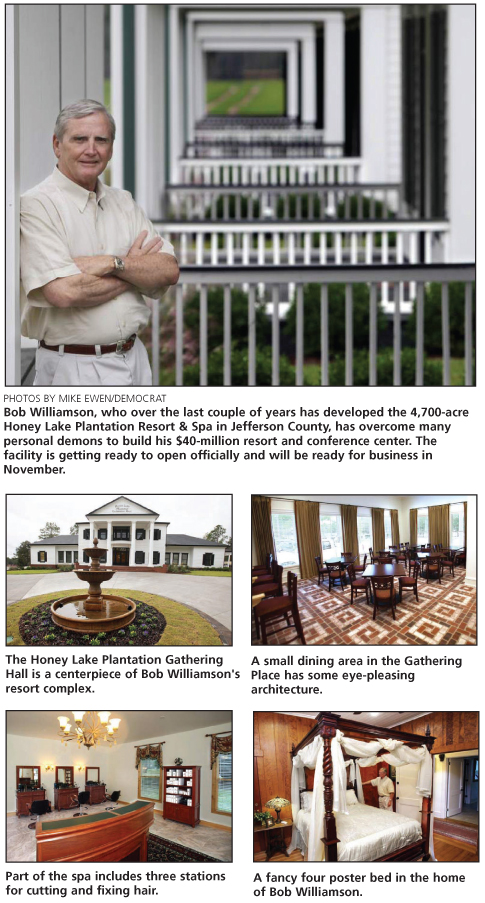 "I overcame so much adversity in my life," Williamson said. "What I learned I did not learn from the Wharton Business School." Instead he strives to follow biblical principles in life and apply them to his business pursuits.
"Christ doesn't do the work for us," he adds. "It says 'I can do.' He gave us a brain, so we have to think smart and work hard."
After selling Horizon Software and finishing his autobiography, "Miracle on Luckie Street," Williamson was living in the Keys when doctors told him too much sun exposure from his beloved offshore fishing was increasing his risk of skin cancer. He and Teresa began looking for a plantation to buy and were looking in Georgia when they heard about Jim Dahl selling the 3,600-acre Honey Lake property.
"When I saw this one, I said, 'This is it. I am going to get this one,'å " he said. That was August 2008 and in the two years that followed, he acquired more land to increase the acreage to 4,700. Williamson also put in the fences, and built the main conference center, the cottages, chapel, lodge building, a lakeside pavilion, pool and the spa buildings. The project created a mini-construction boom in Madison County, he said.
Allen Cherry, executive director of the Madison County Development Council, said the resort is a great addition to the county, but that the pictures he'd seen didn't do it justice.
"Seeing it in person is really unbelievable," Cherry added. "I think one of the most impressive things is walking in that chapel." Visitors immediately get a panoramic view of the 80-acre lake through floor-to-ceiling windows.
Cherry and others see a definite tourism and business impact. "This is a first for Madison County to have something like this," he said.
"Hopefully he will be drawing people into the community with conferences and events," Cherry said. "Anything that helps bring people into Madison County would be a benefit."
Monticello resident Vickie Malloy agrees. "I have told some of my lady friends it would be the perfect place to visit, to sit on the porch, have a glass of wine and relax," she said.
Malloy's daughter, Maghan, married Dan Pruitt at the resort Oct. 8. "Our daughter wanted to get married at a lake on a plantation," she said. Some of the 175 guests indicated they want to return for visits.
Last weekend members of District 3 of the General Federation of Women's Clubs had a retreat at Honey Lake Plantation and are considering it for their next annual get-together.
"They really pulled out the stops to accommodate us. We had dinner in the lodge," said Candi Aubin, secretary-treasurer of the District 3 Directors Club. "It's definitely going to be the jewel in the heart of Leon, Jefferson and Madison counties. I have told all my friends about it."
On the resort's calendar Nov. 4-5 is a seminar Williamson is presenting on the success principles he follows in his business and personal life. For a schedule and other details, visit WilliamsonGroupUSA.com.